Google it. An extremely common expression these days. As many of us have experienced, our website used to appear at the top of the page for Google Searches. Nowadays, appearing at the top of a Google Search seems almost impossible. But being there can increase your business tenfold. Having your website SEO get you to the top can take some time, so what do we do while we wait? One answer is Google Local Services Ads.
But what exactly are Local Services Ads? How are they different from Google Ads and how do I create one? Today's post answers these questions and more.
Here are 15 Local Services Ad questions and their answers.
"Google LSA ads are bringing in more leads than my AdWords and Facebook ads combined, and with half the budget." Paul O. – Dallas Roofing Company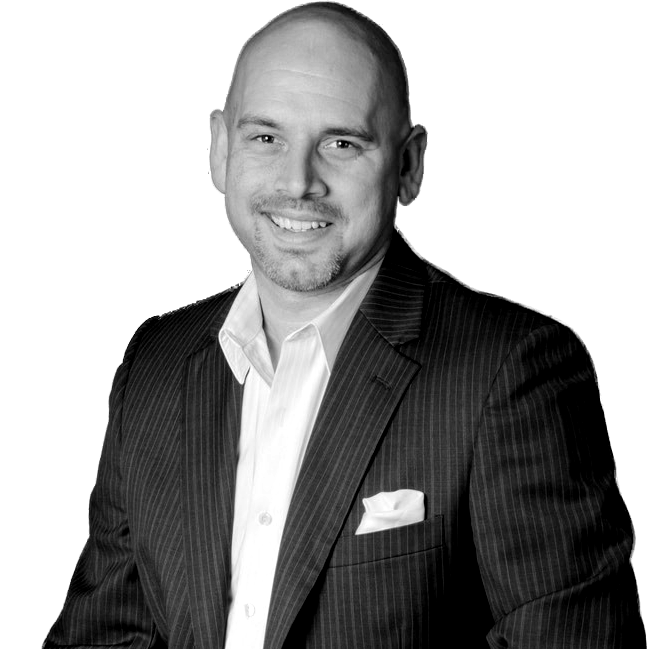 1. What Are Local Services Ads?
They started as "Google Home Service Ads" and are commonly called Google Guaranteed Ads. Local Services Ads (LSA) are a type of digital ad for local businesses in certain industries such as roofing, HVAC, electrical, and cleaning.
Local Services Ads appear above organic search results and even above Google Ads. Each Local Services Ad contains contact details, a businesses' operating hours, an average review score, and a "Google Guaranteed" badge (see section 5).
For example, if someone searches for "plumber for hire New York," they'll see the following: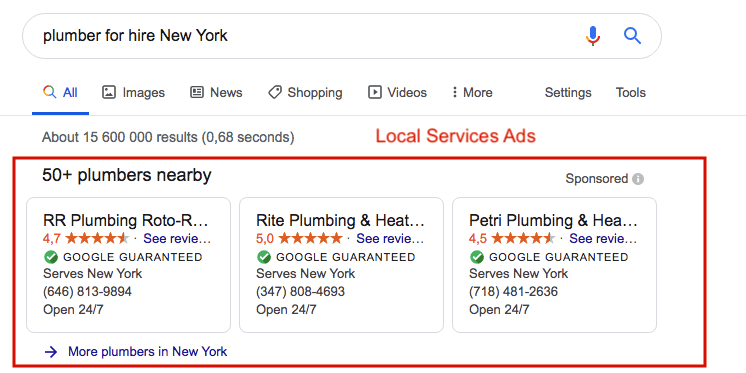 2. Where Are Local Service Ads Available?
Local Services Ads are only available for certain regions in the U.S. and Canada, but Google is expanding its coverage. This means you may have access to them sooner than you think.
To check if your region is eligible, visit the Google LSA signup page. Or, you can do a quick check using Google by typing your profession and city name. A search for "window cleaning Chicago" tells us that Local Services Ads are available: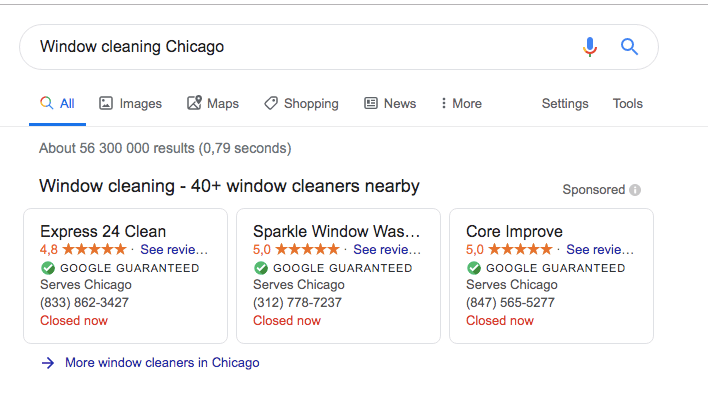 3. What Industries Are Local Service Ads Available For?
As of now, Local Services Ads are only available for specific industries. Below is a list of home service industries that these ads are available for in the United States :
Appliance repair
Architects
Auto glass
Bankruptcy lawyer
Business lawyer
Car repair
Carpenters
Carpet & Upholstery cleaning
Contract lawyer
Countertop services
Criminal lawyer
Disability lawyer
DUI lawyer
Electrician
Estate lawyer
Event planners
Family lawyer
Fencing services
Financial planners
Flooring services
Foundations services
Garage door
House cleaning
HVAC
Immigration law
Interior designer
IP lawyer
Junk removal
Labor lawyer
Landscaping services
Lawn care
Litigation lawyer
Locksmith
Malpractice lawyer
Moving
Personal injury lawyer
Pest control
Pet boarding
Pet grooming
Photographers
Plumber
Real estate agents
Real estate lawyer
Roofing
Siding services
Tax lawyer
Tax specialist
Traffic lawyer
Tree service
Videographer
Water damage services
Window cleaning
Window repair
Google doesn't support all services in all markets yet but is continuously adding to this list. If your industry isn't listed here, check back and it may be available soon.
4. How Are Local Services Ads Different from Google Ads?
Local Services Ads and Google Ads are distinctly different:
You manage each service using a different platform
You use different advertising budgets
With Google LSA, you pay per lead, not per click (CPC). This means you don't pay whenever someone clicks on your ad in search results like you would with Google Ads. You only pay when you have a legitimate phone call from a qualified lead.
Local Service Ads appear above Google Ads in search results. That means they're more prominent AND more likely to be clicked.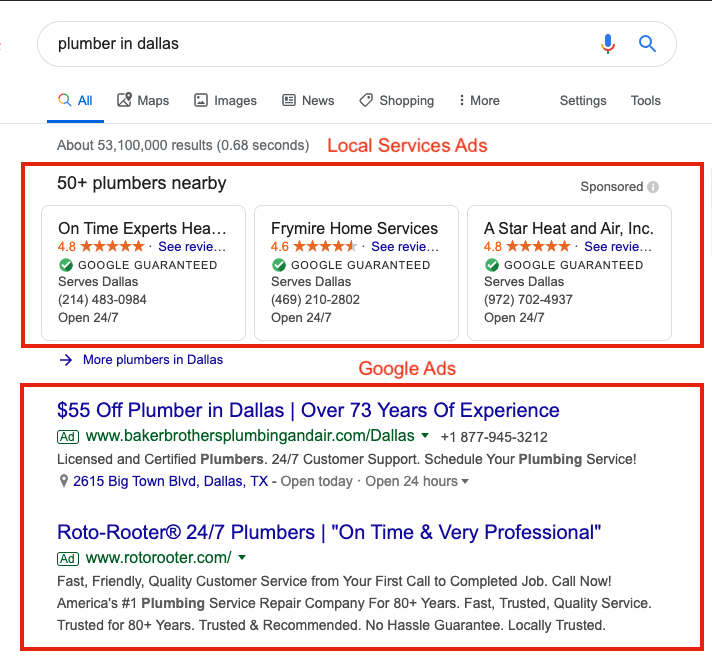 So, which should you choose for your service business?
If you have a small budget and are looking for local clients then Local Services Ads may be perfect for you.
AdWords Ads work best if you plan to advertise consistently, have a larger marketing budget, and want to reach consumers regionally or nationally.
5. What Is a Google Guarantee?
A Google Guarantee appears as a white check in a green circle on specific Local Services listings. It gives consumers confidence that Google has verified your business and considers you trustworthy: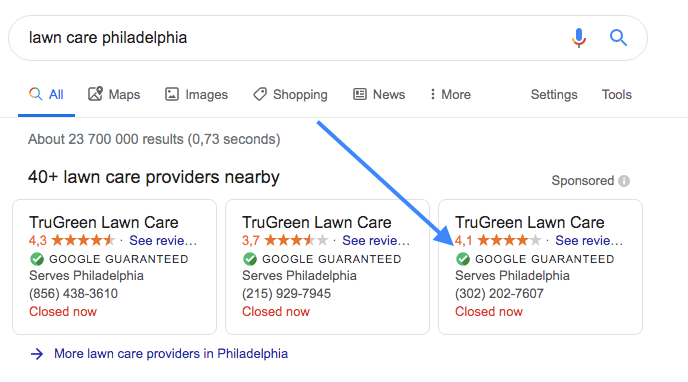 Let's say a customer is unhappy with the quality of your work. Under a Google Guarantee, they can file a claim with Google to get their money back. The maximum claim on a Google Guarantee is currently $2,000.
To get a Google Guarantee, you need to undergo Google's screening and qualification process. To learn more about this process, you can visit the Google Guaranteed page.
Getting the Google Guarantee can help you gain trust and credibility. This makes prospects more likely to choose your business over your competition.
6. What Are the Benefits of Google LSA?
There are several benefits of using Local Services Ads to generate leads:
Get more visibility in search engines by appearing above search results and Google Ads.
Easily connect with people who are actively in need of your services.
Access the Google Local Services Ads mobile app to communicate with potential customers on the go.
The Google Guarantee badge boosts your credibility, so you book more jobs.
You can get listed as a Local Services provider on Google Assistant, which is totally free.
You pay per lead, not per click.
You're able to control your advertising spend (discussed in the next section).
7. How Much Do Google Local Services Ads Cost?
One of the best things about Local Services Ads is that you control the cost. You can decide to spend $1,000 each month or $50. How much you spend depends on how many leads you want, how big your budget is, and the average cost per lead in your industry.
Google does not list the exact cost per lead but mentions that the cost varies based on the job, industry, location, and lead type. You can expect to pay anywhere from $5 to $130 per lead, with an average cost of around $25.
With our experience, here is a breakdown of
Local Services Ads lead cost by industry:
Roofer – $38
Plumber – $27
Electrician – $22
House cleaning – $17
Garage door – $35
Locksmith – $21
Carpet cleaning – $23
HVAC – $29
If you're concerned about the costs, don't be. When you create your ads, you can set a weekly budget and a monthly maximum. You may end up going over budget during the week to be able to obtain more leads, but Google won't let you exceed your monthly maximum. This means you can keep the leads flowing and still control costs.
If you realize you're frequently reaching your monthly maximum before the end of the month then you can increase your budget to obtain more leads. Just remember to slowly increase the budget so that you don't overwhelm your staff or take on more work than you can handle.
8. What Do I Need to Get Started?
You need to do the following to get going with Google LSA:
1. Check that your location is eligible.
2. Undergo the screening and qualification process which involves a background, license, and insurance check (this can take weeks and possibly months).
The requirements to get started will vary, so make sure that you understand the process for your specific industry. You can view those requirements here.
9. How Do I Create a Local Service Ad?
Follow these five simple steps to create your first local home services ad:
1: Confirm your eligibility.
2: Establish your business profile by specifying your location and service.
3: Get a Google Guarantee by including license and insurance information and passing a background check.
4: Log in to the platform to establish your weekly budget.
5: Run your ads with a simple click and pause them as required.
10. How Are Local Services Ad Rankings Determined?
Not all ads are created equal. Google will display and rank your ad higher based on the following factors:
The proximity of your business to a lead's location
Your operating hours
Customer complaints—more complaints lead to a lower ranking
Your volume of reviews and average review scores – (this is a big one!)
How quickly you respond to customers inquiries
11. How Can I Make My Ad Stand Out?
Listing your business location and operating hours
Responding quickly to customer requests
Delivering exceptional service, so customers leave positive reviews
Not leaving reviews to chance – get more Google Local Services reviews by using Strategic Point Marketing's Review Program:

A unique review link you can share with customers
The ability to ask for a review as soon as you've completed the service
A review page so you can ask for reviews
12. How Do Google Local Services Reviews Affect LSA?
Both the average review score (rating) and the number of reviews affect Local Services Ads. Higher ratings and more reviews lead to better rankings.
13. Can I Dispute Charged Leads?
Yes. To dispute a charged lead, do the following:
1: Visit your lead inbox on your desktop.
2: Choose the menu icon found in the top right-hand corner.
3: Click "Dispute."
4: Pick your reason for the dispute from the options listed. If yours isn't listed, contact Local Services support.
14. Should I Hire an Agency to Manage My Google Local Services Ads?
Local Services Ads are simple to manage compared to other types of digital advertising. If you have a bit of time to experiment, we recommend setting up your first LSA without an agency. Just make sure you set a low budget and start with a small campaign.
If you're ready to start a bigger campaign, or you'd like to manage Local Services Ads along with Google Ads, Facebook, and Instagram ads, then you can look into using an agency to manage your campaigns.
15. How Do I Book Jobs from Local Services Ads?
Local Services Ads allow you to collect and manage leads. But remember, these are just leads and not booked jobs. You can turn these leads into bookings in five simple steps:
1: Sign in to your Local Services Ads account.
2: Go to the "Leads" tab from the dashboard.
3: Select an individual lead to review all the details like location, type of job, etc.
4: Reply to a lead by emailing, texting, or calling (you can also decline the job).
5: Once you've confirmed the customer will be using your services, mark the lead as booked. You can do this within the Local Services Ad platform on the upper right corner of your inbox on desktop, or lower right corner on mobile.
Local Services Ads will bring in the leads, but you still need to close the deal. Be professional and contact the consumer quickly. Sitting on a lead may encourage them to seek out another service.
Basically, have a system in place for turning prospects into customers. That's where a strategist like JRCMO comes in. He can assist in setting up lead flow and following up with prospective clients until they are a cold lead, or they are sold.
Think Local Services Ads can help you attract new business and win more jobs?
Give it a try. We're here for you.